Lyreco
Lyreco
The Lyreco annual sales conference provides the opportunity for its sales people to learn more about the business, its suppliers and products.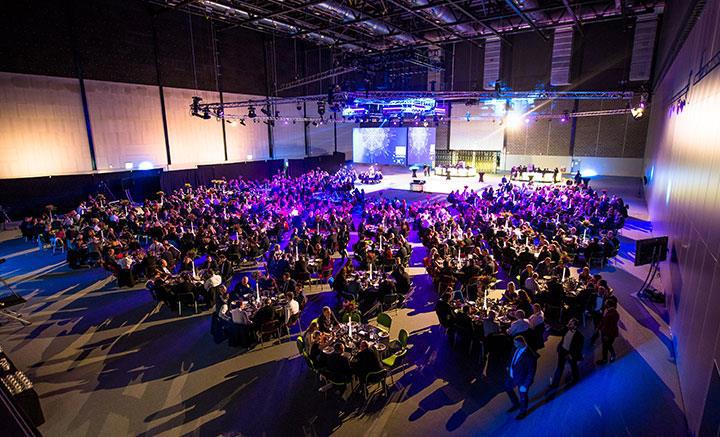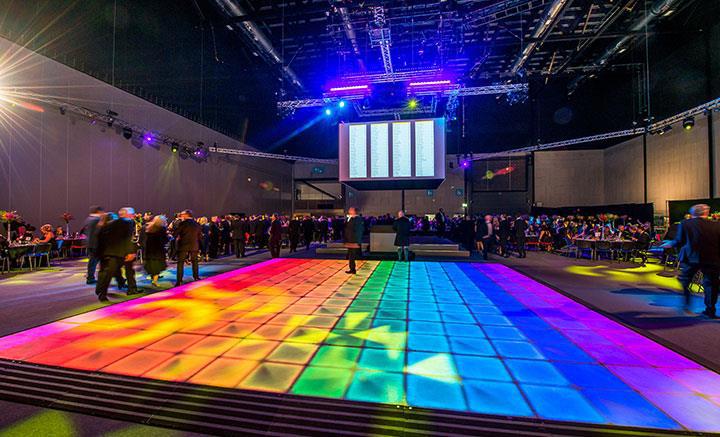 It was the ninth time that the event had taken place at our venue but the first time it had taken place in Exhibition Centre Liverpool, previously it was held in ACC Liverpool's conference centre.  It used majority of the exhibition centre – Halls A, B and C, the Atrium, the Lounge, the Terrace, and the suite of eight meeting rooms. Halls A and B were combined to house the supplier exhibition providing 5,400 sqm of space, with the third hall (Hall C) being used for the main plenary session, and then later transformed for a gala dinner in the evening.  The Lounge, Terrace and meeting rooms were used for break-out sessions and the glazed Atrium area played host to a pre-dinner drinks reception.  We also have an adjoining 216 bedroom hotel, Pullman Liverpool, which accommodated some of the delegates.
This year's theme focused around innovation and thinking differently which fitted in with a change in venue.  The menu at the gala dinner, provided by our caterers Centerplate, reflected the theme with dishes such as an edible garden for dessert consisting of a chocolate pot with chocolate soil and edible flowers and stones.
As Hannah James, Lyreco's Marketing Communications Manager, commented: "Our delegates have always enjoyed our annual sales conference, but we felt 2017 was the year to radically 'mix-up' the format of the event our delegates have come to know and expect to ensure it remains an exciting and rewarding event for them.
"By utilising Exhibition Centre Liverpool, (part of the ACC Liverpool site), we were able to deliver upon our vision of delivering a very different event while still remaining in Liverpool. This allowed us to take full advantage of the city centre hotels all within walking distance of the venue.
"We have always worked closely with the team at ACC Liverpool to ensure the event has been a success, and the transition between venues worked really well and feedback has been extremely positive.  The change of venue tied in nicely with our theme of innovation and challenging the ways things have been done in the past."
A variety of other conferences have also used the exhibition centre, which opened its doors in September 2015.  The European Association for International Education (EAIE) was the first event to hold its conference and exhibition across all three venues on the ACC Liverpool campus, including the Arena.  Its exhibition took place across halls A, B and C while the Labour Party conference held its plenary session, including the leadership announcement, in specially constructed tiered seating in hall C.  Kerrin added: "We are finding that many conference organisers like the flexibility and opportunities that our extended venue now bring thanks to the addition of our exhibition centre.  It really is a blank canvass which, with some creative ideas, can be transformed into a vibrant space with each event."